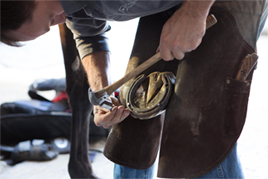 Growing up on farms and a riding school, it was a natural progression to want to work with horses. So, after spending a summer working with the local farrier, my mind was firmly set on becoming one.
I started my apprentiship in 1994 with Kelvin Lymer Dip WCF, of Sandpitt Forge. It was here I learned to shoe a variety of equines – from Pony Club ponies to Shire horses. I passed my Diploma of the Worshipful Company of Farriers (Dip WCF) in November 1998.
After moving to the Cotswolds in 1999, I set up my own farriery practice and continued to shoe all types of horses and ponies, across all disciplines. Now, I specialise in performance horses and remedial farriery.
In December 2014 I was honoured to have been granted the status of Master Farrier by the Worshipful Company of Farriers.
Qualifications
After gaining my Dip WCF in 1998, I worked hard to get as much experience as possible with corrective and remedial shoeing, to pass the higher farriery exam, known as the Associate of the Worshipful Company of Farriers (AWCF) in 2011.
I'm also an Approved Training Farrier (ATF), which allows me to pass on my knowledge and skills to apprentices.
Experience
In 2001 I had the privilege of being asked to be team farrier for the British Young Riders Endurance Team. During this time I gained extensive experience, dealing with top-class performance horses at world championship level, both at home and abroad.
Following this, I became interested in performance horses in all disciplines, predominantly eventing and show jumping.
I have shod eventers that have been round 3* and 4* courses, including Badminton; show jumpers that are consistently winning at all levels; dressage horses competing at Grand Prix; and trimmed foals and shod racehorses that have won on both the flat and over jumps.
I work closely with vets on a regular basis, helping to improve the soundness and performance of horses, where needed. This includes the application of bar shoes, pads, plastic shoes, extensions and the treatment of various hoof conditions, such as laminitis.
Continued Professional Development (CPD)
All farriers are expected and encouraged to participate in CPD. This enables us to keep up to date with the latest research into horses' feet and any new shoeing developments. As a proactive farrier, I attend as many CPD events as possible throughout the year, including seminars, clinics and horse shoeing competitions – in which I have had consistently good results.